LUXURY DINING ROOM FURNITURE
Are you in pursuit of luxury dining room furniture in Canada that mixes style and
affordability? Look no further than our prestigious Orangeville showroom – North End
Furniture.
Our curated collection provides your home with lavish dining room furniture, modern dining sets, custom dining furniture, and exquisitely comfortable dining chairs and table options to cater to your preferences.
Explore our flawless dining room furniture that will transform your dining space into a realm of refinement – and immerse yourself in the boundless potential for elevating your home's atmosphere.
Why Choose North End Furniture in Orangeville?
With our exquisite designs, your home will exude both refinement and utmost comfort. 

We firmly believe that a substantial price tag should not be the sole measure of good taste. At North End, we stand by a fundamental truth: design isn't just subjective but an art transcending time.

Timeless Design at Competitive Prices
We believe that good taste and timeless design should not come with a hefty price tag and prioritize timeless designs that transcend trends making your furniture choices remain stylish and relevant for years.
 
Objective Approach to Design
We understand the enduring appeal of certain design principles, so we create furniture pieces that resonate with various tastes and preferences by adhering to these principles. 

Perfect Confluence of Design and Build Quality:
We excel at achieving the perfect design and build quality confluence, which complements our focus on timeless design. Each piece at North End is crafted with attention to detail, ensuring
aesthetic appeal, durability, and longevity.
WHAT DOES NORTH END FURNITURE HAVE FOR YOU?
Furniture solutions that provide you with a modern centerpiece for your room. 

Whether it's the bedroom or your living room, we have everything for every room of your house
to look its fanciest. You can find the best designs for various furniture at our Orangeville
furniture store.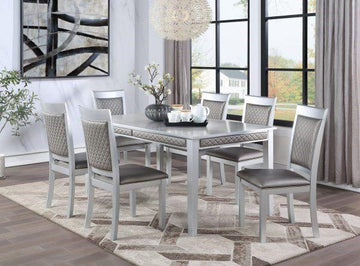 Benefits of Dining Room Furniture for Orangeville Homes
Elevated Dining Experience:
Having well-chosen dining room furniture in your home enhances your dining experience by twofold. An exquisitely designed dining table and comfortable chairs create an inviting ambiance for family gatherings and entertaining guests turning your meals into enjoyable occasions.

Efficient Space Utilization:
Dining room furniture helps optimize space in your home well-designed dining sets often include storage solutions like buffets or cabinets that allow you to keep your dining essentials organized and easily accessible. This efficient use of space contributes to a clutter-free home.

Aesthetic Enhancement:
Dining room furniture complements your interior décor, contributing to the aesthetic of your home overall. Whether your style is traditional, rustic or contemporary – the right dining furniture adds a touch of elegance to your living space.
CONTACT US
North End Furniture is always available for any queries or concerns. You can reach us at our Orangeville furniture store at (437) 223-7306. Or, if you don't feel like talking but want a prompt reply, email us at info@northendfurniture.com.
FREQUENTLY ASKED QUESTIONS
Dining Room Furniture in Canada
What factors should I consider when choosing dining room furniture?
When choosing dining room furniture, consider several essential factors. First, assess the available space in your dining area to ensure the furniture fits comfortably without overcrowding. Next, think about your preferred style, whether it's contemporary, traditional, or a mix of both. Take into account the number of people you plan to accommodate regularly and occasionally. Also, evaluate the durability and materials of the furniture, as they affect the furniture's longevity and maintenance.
How can I create an inviting dining room design?
Crafting an inviting dining room design involves several key elements. Start by selecting a cohesive color scheme that resonates with your personal taste and complements your home's overall decor. Comfortable seating is crucial, as it encourages guests to linger and enjoy their meals. Adequate lighting, whether through a chandelier or pendant lights, is essential to set the mood. Don't forget to incorporate decorative elements like artwork, rugs, and table centerpieces to add character and warmth to the space.
What are the key characteristics of modern dining furniture?
Modern dining furniture is defined by its contemporary design elements. It often features sleek and clean lines, minimalist aesthetics, and a focus on simplicity. Materials like glass, metal, and wood are commonly used to create a sense of openness and lightness in the dining area. Modern dining furniture embraces open spaces and emphasizes functionality, making it perfect for those seeking a clean and uncluttered look.
What are the advantages of custom dining furniture?
Custom dining furniture offers numerous benefits. It allows you to personalize your dining space, ensuring that the furniture fits perfectly and aligns with your unique style. Custom pieces cater to specific dining needs, whether it's accommodating a larger number of guests or incorporating special features. With custom furniture, you can create a one-of-a-kind dining area that reflects your individuality and preferences.
How can I incorporate luxury dining room furniture into my design?
Incorporating luxury dining room furniture involves selecting opulent materials, elegant finishes, and refined designs. Luxury dining tables, chairs, and sideboards often feature high- quality woods, sumptuous upholstery, and intricate detailing. Invest in statement pieces that exude grandeur and sophistication, making them the focal points of your dining area. These pieces will contribute to a sense of luxury and elegance in your home.
What are some tips for maximizing space in a smaller dining room?
In a smaller dining room, space optimization is crucial. Utilize space-saving furniture, such as extendable dining tables that can be adjusted based on the number of diners. Wall-mounted shelving can provide storage without occupying floor space. Multifunctional seating, like benches with hidden storage, can be used to maximize the utility of the room. Light and neutral colors on the walls and furniture can create an open and airy feeling, reducing the sense of crowding.
What dining room design trends are popular in 2023?
In 2023, popular dining room design trends include the use of earthy and muted color palettes that evoke a sense of calm and serenity. Sustainable and natural materials, such as reclaimed wood and eco-friendly fabrics, are on the rise, reflecting an increased focus on environmentally responsible design. Minimalist furniture designs with clean lines and uncluttered aesthetics continue to be in vogue. Biophilic elements like plants and natural textures are being incorporated to connect the dining space with the outdoors.
How can I ensure my dining room furniture is both stylish and functional?
Striking a balance between style and functionality involves choosing dining room furniture that complements your design aesthetic while serving practical needs. Consider furniture with sturdy construction, comfortable seating, and ample storage solutions. Ensure that the furniture meets the requirements of your lifestyle, such as accommodating family meals or hosting formal dinners. Combining aesthetics and practicality can create a harmonious and efficient dining space.
Is it necessary to match my dining room furniture with the rest of my home's décor?
While matching your dining room furniture with your home's overall decor can create a cohesive look, it's not a strict requirement. Mixing styles and elements can add character and uniqueness to your living space. Some homeowners prefer the eclectic charm of contrasting design elements, as long as there's a unifying element, such as a common color scheme or theme, to tie everything together.
What should I look for in high-quality dining room furniture?
High-quality dining room furniture should exhibit several key characteristics. It should be crafted from durable materials, whether it's solid wood, metal, or glass, to ensure longevity. Pay attention to well-constructed frames and sturdy joints, as these contribute to the furniture's durability and stability. Reputable brands and manufacturers often produce higher-quality pieces. Additionally, consider details like finishes, upholstery materials, and warranty information to ensure you're investing in long-lasting, reliable furniture that will stand the test of time.